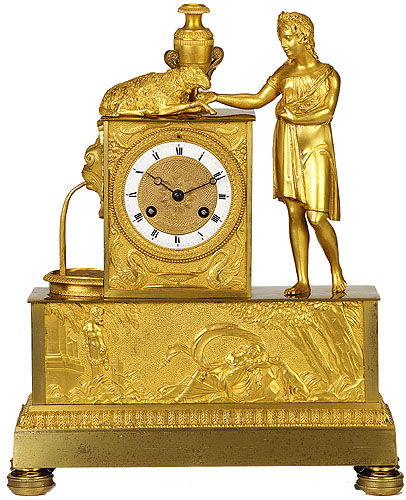 Should you wish to buy, or require further information on any of the clocks, please email
Or telephone 07785 583 500

An early 19th century French Ormolu mantelclock.
The countwheel bell striking movement has silk suspension to the pendulum, typical of these earlier French clocks
Made circa 1830
Height 14inches (35.5cm)
Price £2750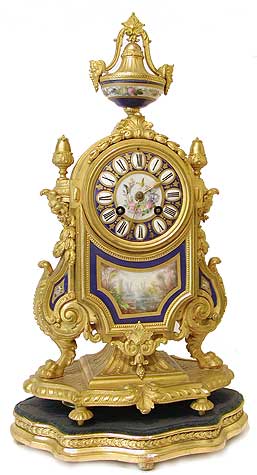 A 19th century gilt, porcelain mounted mantel clock made circa 1870.
The bell striking movement with the makers mark for Japy Freres.
height 18inches (45.7cm) inclusive of the detachable giltwood base
Price £1250
CLICK ON IMAGE TO ENLARGE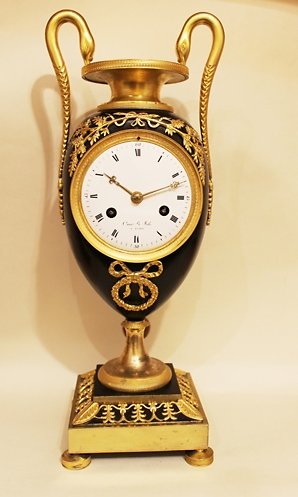 A very attractive early 19th century French striking mantle clock..
The Ormulu case has a Black Vase mounted with detailed gilt mounts.
The base similarly has contrasting gilt mounts over the black ground.
The countwheel striking movement has a silk suspension and sounds the hours and half hours on a bell.
The white enamel dial signed Coeur Paris
Made circa 1810-20
Price £3750
Height 40 cm x 13.5 wide
CLICK ON THE IMAGE TO ENLARGE
SIDE VIEW OF THE FRENCH VASE CLOCK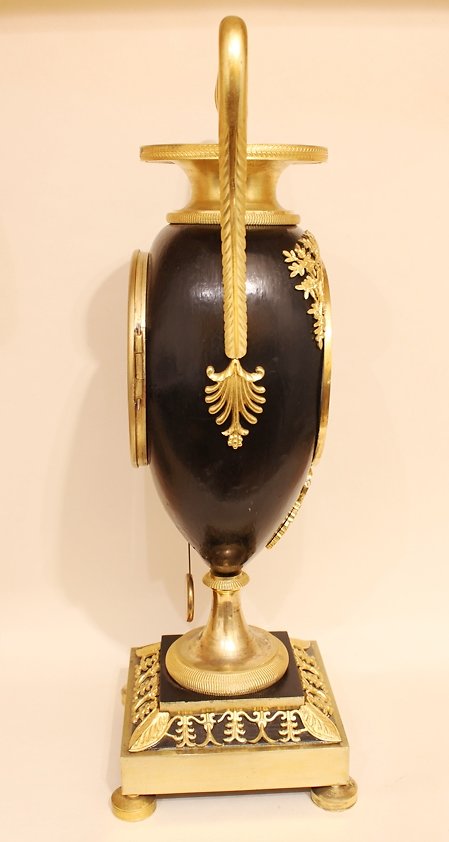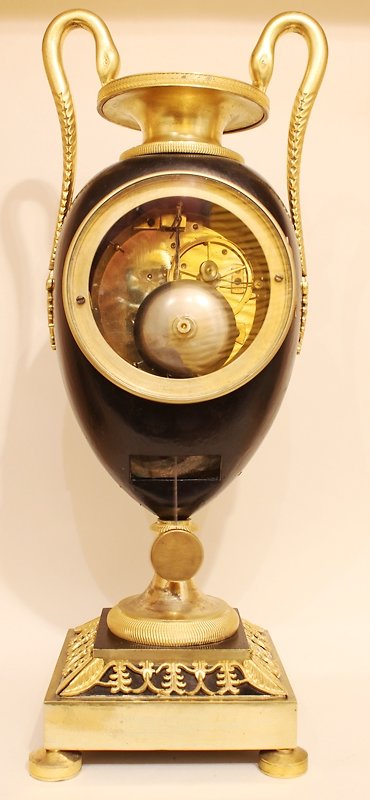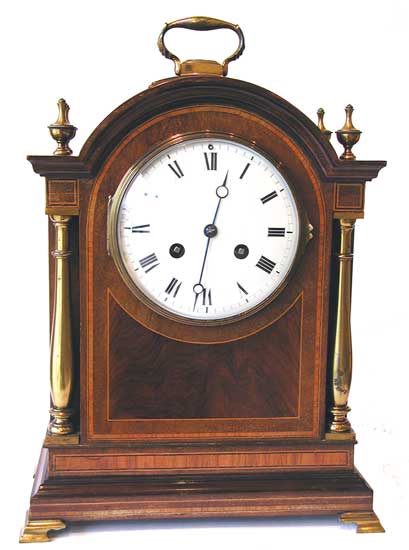 A very nice quality late Victorian mantel clock.
The Mahogany case is very well detailed with crossbanded inlays and stringing. It is in fine original condition retaining its well preserved surface.
The French gong striking movement has a convex enamel dial with roman numeral.
It has to be said that this is the best example of its type that I can remember handling.
Height 12 inches (30.5cm) plus the handle
Price SOLD
CLICK ON THE IMAGE TO ENLARGE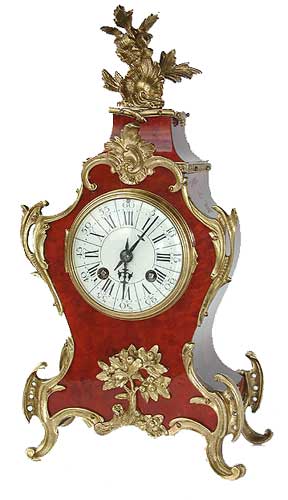 A late 19th century gilt mounted Tortoiseshell mantel clock.
The gong striking movement by A.D.Mougin has an enamel dial with roman numerals for the hours and outer minute numerals.
Height 14 inches (35.5cm)
SOLD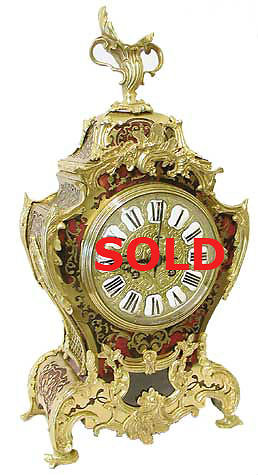 An impressive French red boulle work mantel clock.
The gong striking movement by Samuel Marti has a cast dial with enamel cartouche numerals.
Made circa 1900
Height 18inched (45.7cm)
Price SOLD
CLICK ON IMAGE TO ENLARGE