Should you wish to buy, or require further information on any of the clocks, please email
Or telephone 07785 583 500
CLICK ON IMAGE TO ENLARGE
A relatively small English Fusee` timepiece Bracket clock.
The Rosewood case with decorative chamfered pediment.
The fusee` movement signed to the plain back-plate Thomas Leach London.
The arch silvered dial also signed Leach London.
Made circa 1830
Height 11 inches (28cm)
Price £3750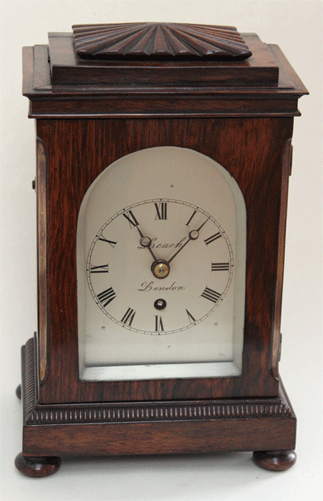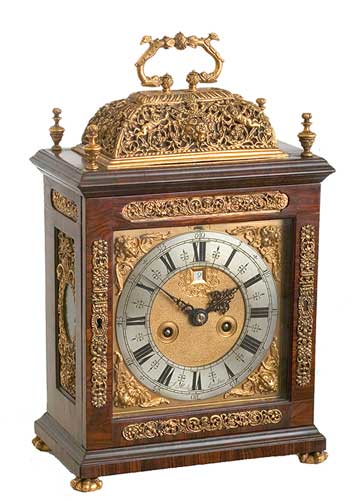 CLICK ON IMAGE TO ENLARGE
JAMES MICHEL LONDON
This clock would have been made late 17th century so circa 1690 -95.
Information on the maker recorded by Loomes in the book Early Clockmakers of Great Britain, as a Long case clock by him c.1700, and one Mr Michell paid The Clockmakers Company a search fee in 1673.
The Kingwood case is mounted with a `repoussee` basket and mounts, and stands 14 inches high plus the upright handle.
The 8-day twin fusee` movement with 3 bell pull quarter repeat and Verge Escapement..
The back-plate is beautifully engraved with floral decorations, which surrounds the maker's name.
The square gilt dial with winged cherub spandrels.
The use of Kingwood in English clock cases is exceptionally rare.
Very few are seen let alone available for sale.
P.O.A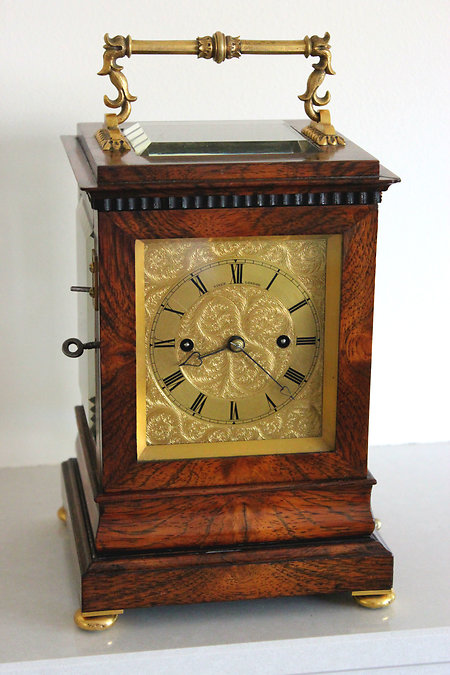 AN ENGLISH TRAVELLING CLOCK BY VINER LONDON
GO TO THE CARRIAGE CLOCK PAGE TO SEE OTHER VIEWS
A superb mid 19th century English Travelling clock.
The Rosewood Five Glass case has thick bevelled edge glasses and a very detailed gilt handle.
The twin fusee` movement striking on a coiled gong, has a top mounted platform escapement, with a heavy plain rimmed gilt balance wheel to the Ratchet tooth Lever escapement.
The superb gilt dial with profuse engravings has Roman numerals to the chapter ring and is signed Viner London.
Height 9ins (excludes handle)
POA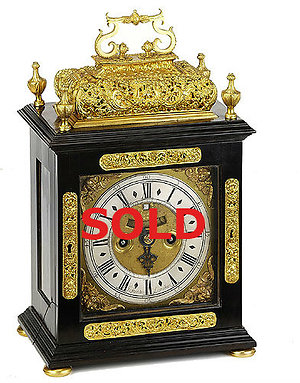 CLICK ON IMAGE TO SEE THE ENGRAVED BACK-PLATE
JOHN STANTON LONDON
A good Basket top Bracket clock by John Stanton who is recorded as an aprentice to Richard Farmer from 1684-1691. Records show he paid quarterage to the Clockmakers Company till mid 1700.In July 1712 he promised to pay his arrears,"He has been severals years out of England"
The 8-day twin fusee` movement with ORIGINAL verge escapement repeats the quarters on a single bell, followed by the hour.
The hour can also be repeated independantly of the quarters via a seperate pull chord.
The brass dial with mock pendulum aperture and Strike / Silent lever above the twelve o`clock postion. Height 14.5 inches (37cm) plus the handle when upright,
Made circa 1700 SOLD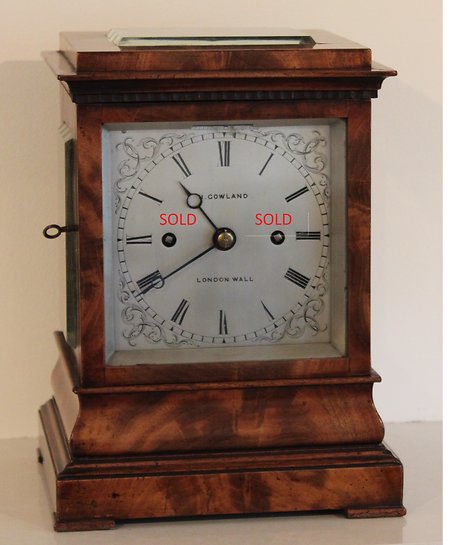 JAMES GOWLAND LONDON
Scroll down for other views
A fine English 4 Glass Striking Table clock by James Gowland London Wall.
This particularly fine example is not only of a small size (10inches high) but also has a top mounted Platform Lever escapement, and maintaining power to the winding mechanism.
This makes this clock a more portable timepiece, so when taking into account its features, one must conclude that it is a far superior example to similar larger clocks fitted with pendulums.
The twin train, chain Fusee` movement, strikes the hours on a bell.
Made circa 1850.
Price SOLD
James Gowland a well respected maker of fine clocks is recorded as working at 11 Leathersellers Buildings, London Wall.
He is recorded as working 1832-75 and died in 1880.